The Little Shoppe of Auras

Seasoning Mixes

Hand mixed - From our kitchen to yours!

The Little Shoppe of Auras

618 251 9646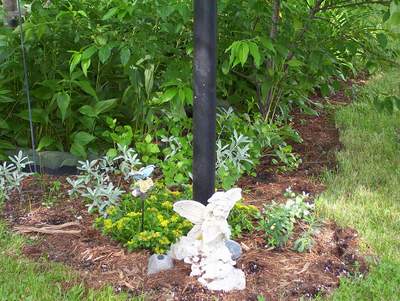 This page was last updated: September 15, 2014
Our Gardens are always changing and we are always adding new and wonderful herbs.  Pay us a visit and relax amongst the herbs and flowers in our Sacred Space.

A spicy blend of herbs hand mixed to add to any favorite Indian Recipe.

Ingredients: Cilantro, Coriander, Cumin, Turmeric, Mustard Seed, Garlic, Ginger, Sea Salt, Cayenne

A wonderful blend of herbs hand mixed to add to any favorite Italian Recipe or Pasta.

Ingredients: Basil, Oregano, Thyme, Marjoram, Rosemary, Garlic, Black Pepper, Sea Salt, Sage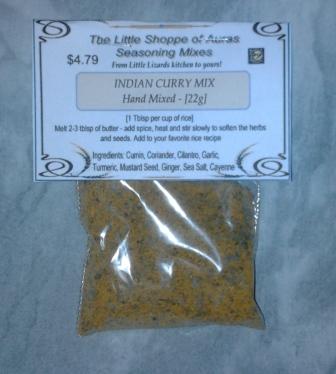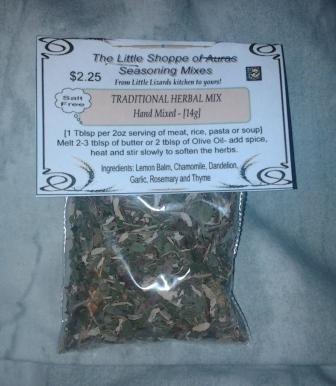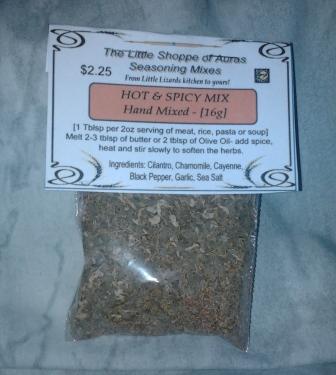 An herbal blend of Seasoning to spice any meat, vegetable, pasta, rice or soup.

Ingredients:  Lemon Balm, Chamomile, Dandelion, Rosemary, Thyme and Garlic.

A naturally, mildly sweet and mildly hot seasoning to add to any recipe.  Wonderful for making hot n spicy chicken.

Ingredients: Cilantro, Chamomile, Cayenne, Black Pepper, Garlic and Sea Salt

For a Healthier way of seasoning, our mixes contain the best natural herbs and spices and very little sea salt.  No preservatives have been used in preparing our mixes.